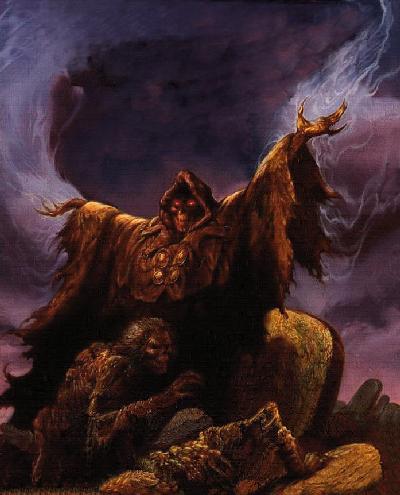 The career of necromancer is an excellent choice for evil-doers who are not a "people person." Though some might say there is not much point to turning the earth into one gigantic graveyard, these people are fools and will never understand anyway. Good career entry points for becoming a necromancer include occultists, dabblers in voodoo, grave diggers, morticians, possessed eight-year-old girls, and inheritors of scary books wrapped in human flesh.

That last choice is probably the best, because the first thing you're going need to do is obtain sort of Book of Evil. These blasphemous tomes are excellent sources of untold damnation and blasting any remnants of your sanity away. You can get most sorcerous books from your local occult book shop, though they have also been known to be found inside ancient tombs, Miskatonic University and any movie starring Bruce Campbell.

With your Book of Evil in hand, your next objective is to obtain corpses to fuel your army of the undead. The local cemetery is probably your best bet, but don't overlook nearby battlefields, the morgue, or simply making your own! If you start getting any doubts about what you are doing (the whole condemning innocents souls to an eternity of pain and suffering thing), rest assured that it's only your conscience. This shouldn't be too big of a problem, because as soon as you perform a few of the blasphemous rituals it will be nothing but a faded memory.

You should now have a large number of zombies under your command. Think of them like your children, or rather, cannon fodder. These shambling corpses will be used to execute your swath of destruction, so all that's really left is finding some poor group of schmucks to terrorize. Absolutely best are villages of medieval peasants, but due to cutbacks and the passage of several hundred years these are kind of hard to come by. You may thus want to simply use the nearby town, basing yourself at that deserted mansion no one ever goes to. Send forth your legions of the living dead, attacking the townsfolk and transforming them into zombies with every bite. Before long you will have a virtual army of the undead, which can then be sent to more towns, and more, until the world is yours.

Surgeon General's Warning: Known side effects for being a necromancer include loss of hair, pale skin, tomb rot, foul stench, eyes melting from their sockets, gibbering insanity, and eternal damnation.